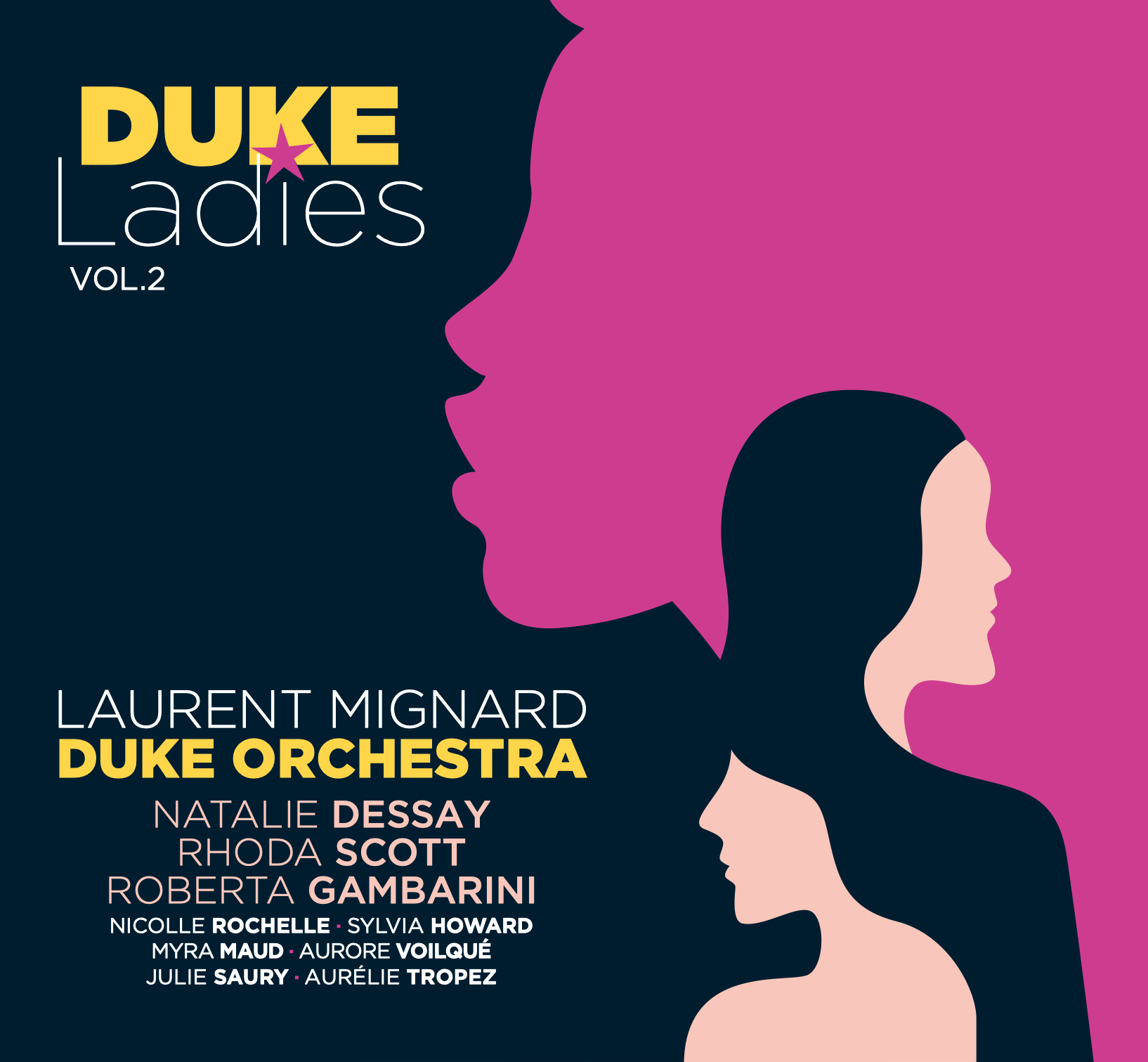 THE LORD'S PRAYER – Sylvia Howard
ON A TURQUOISE CLOUD – Nicolle Rochelle
LADY MAC – Sylvain Gontard
PORTRAIT OF MAHALIA JACKSON – F. Couderc …
SOMETHING TO LIVE FOR – Roberta Gambarini
FLIRTIBIRD extended – Didier Desbois
HEAVEN – Natalie Dessay
THE BLUES – Myra Maud
LADY OF THE LAVENDER MIST – Aurélie Tropez …
GOLDEN FEATHER – Philippe Chagne
THE CLOTHED WOMAN – Philippe Milanta
ALL HEART – Claude Égéa
PERDIDO – Rhoda Scott, Aurore Voilqué
Après « DUKE LADIES Vol.1 » : Prix jazz classique 2021 de l'Académie du Jazz, CHOC Jazz Magazine, Sélection FIP …
NOUVEAUTÉ – sortie le 15 avril 2022
DUKE LADIES Vol.2
Laurent Mignard Duke Orchestra
avec Natalie Dessay, Rhoda Scott, Roberta Gambarini …
Duke Ellington aimait les femmes qui le lui rendaient bien ; cette passion pour la gent féminine a nourri son œuvre au fil de sa longue carrière. Les Duke Ladies sont des femmes qu'il a fréquentées, dont il a brossé le portrait ou qui ont chanté pour lui, parées d'arrangements subtils et raffinés (souvent avec la complicité de Billy Strayhorn). Sa musique leur a rendu hommage, avec tendresse et humour. Les Duke Ladies sont également des artistes de notre temps, sincères et passionnées, réunies pour incarner avec talent et générosité les multiples facettes de l'art ellingtonien.
Dans son second opus, Laurent Mignard Duke Orchestra prolonge l'exploration de l'idéal féminin selon Ellington. Sept artistes invitées rejoignent les jazzwomen de l'orchestre pour incarner avec talent et générosité de nouvelles facettes de l'élégance ellingtonienne. Et puisque le maestro charmeur et charmant considérait que la musique est une femme, nous osons proclamer que la femme est l'avenir de Duke !
En mémoire de Claude Carrière
LAURENT MIGNARD DUKE ORCHESTRA : Aurélie Tropez (sax alto, clarinette), Julie Saury (batterie), Didier Desbois (sax alto), Frédéric Couderc (sax ténor, flute), Olivier Defays (sax ténor), Philippe Chagne (sax baryton, clarinette basse), Claude Égéa, Malo Mazurié, Jérôme Etcheberry, Richard Blanchet (trompettes),Nicolas Grymonprez , Michaël Ballue, Jerry Edwards (trombones), Philippe Milanta (piano), Bruno Rousselet (basse), Laurent Mignard (direction).
INVITÉ(E)S : Natalie Dessay (vocal), Rhoda Scott (orgue hammond), Roberta Gambarini (vocal), Nicolle Rochelle (vocal), Myra Maud (vocal), Sylvia Howard (vocal), Aurore Voilqué (violon), Sylvain Gontard (bugle)
Production : label JUSTE UNE TRACE – Référence : AMOC 206470292758 – Distribution physique : SOCADISC
ÉVÉNEMENT – THÉÂTRE DU CHÂTELET
jeudi 12 mai 2022
• 18h30 : Conférence « Duke Ellington et les femmes », par Laurent Mignard. Entrée libre réservée au public du concert
• 20h00 : Concert « Duke Ladies » – infos et réservations ici
Les 15 musicien(ne)s du Duke Orchestra (incluant Aurélie Tropez à la clarinette et Julie Saury à la batterie) accueillent neuf invitées :
Natalie Dessay, Élodie Frégé, Roberta Gambarini, Nicolle Rochelle, Myra Maud, Sylvia Howard (chant), Rhoda Scott (orgue Hammond), Aurore Voilqué (violon), Rachelle Plas (harmonica).

MUSIQUE par Duke Ellington

La musique est une femme dans l'éclat de sa beauté,
La musique est une femme de ménage récurant la saleté,
La musique est une enfant,
Simple, douce et radieuse,
Vieille de mille ans,
Glacée et intrigante.

Patiente et avisée,
Incommensurablement bonne,
La musique est la femme dont vous avez toujours rêvé.

Fragile telle une fleur,
Simple pétale de rose,
Ce que vous croyez penser,
Elle sait d'avance qu'elle le sait.

Un système de rubans,
Une multitude de ramifications
Jaillissant de son cerveau à son cœur,
Un million de facettes d'arachnéennes sensations.

Et vous pourriez être,
D'un ennui inadéquat

La musique est une superbe catin, …
Un volcan de désir
Qui fait bouillonner votre sang,
À mesure que vous vous élevez.

La musique est comme la femme,
Elle-même semblable aux mathématiques :
La musique est une femme théorème

Peu importe à quel point vous la connaissez,
Il y a toujours à apprendre ;
Une aventure sans fin, qui chaque jour se renouvelle.
La musique est cette femme
Dont vous espérez qu'elle dira :
« Peu nombreux sont ceux qui, comme vous, font œuvre nouvelle. »
Hélas, vous êtes victime de ses manœuvres,
Car elle, elle peut toujours vous satisfaire.

La musique est la femme
Que vous suivez jour après jour ;
La musique est la femme
Qui agit à sa guise, toujours.

La fille aux seins dénudés –
Que vous aimez voir se trémousser –
Vous aurez beau essayer,
Jamais vous ne réussissez.

Lorsque vous ne l'entendez pas,
Elle vous manque terriblement
Et lorsque vous la tenez dans vos bras,
Vous aimeriez pouvoir l'embrasser.

Duke Ellington – « Music is My Mistress », Slatkine & Cie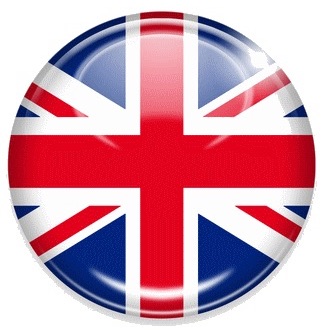 Duke Ellington loved women who returned the sentiment; this passion for womankind inspired his oeuvre throughout his long career. The Duke Ladies are those whom he frequented, whose portraits he painted or who sang for him, embellished with subtle and refined arrangements (often with the complicity of Billy Strayhorn). His music paid homage to them with tenderness and humor. The Duke Ladies are also the sincere and passionate female artists of our time who have come together to incarnate with talent and generosity the many facets of Ellington's art. And since the maestro of charm considered that music is a woman, we dare to proclaim that women are the future of Duke! In his new opus, Laurent MIGNARD Duke Orchestra proposes a wide instrumental and vocal panorama in homage to women. Eight guest artists join the jazzwomen of the orchestra to embody with talent and generosity the multiple facets of the ellingtonian elegance.

MUSIC by Duke Ellington

Music is a beautiful woman in her prime,
Music is a scrubwoman, clearing away the dirt and grime.
Music is a girl child,
Simple, sweet and beaming,
A thousand years old,
Cold as sleet, and scheming.

Wise and patient,
Unfathomably kind,
Music is the woman you always wanted to find.

As fragile as a flower,
A single petal of a rose,
And what you think you think,
She already knows she knows.

A system of ribbons,
A multiplicity of ramifications,
Sparkling from her brain down through her core,
A million facets of gossamer sensations.

And you could be
A most inadequate bore.

Music is a gorgeous bitch, …
A volcano of desire
Makes your blood to boil
As you get higher and higher.

Music is like the woman
Who is like mathematics:
Music is a woman who's true.

No matter how well you know her
There's always more to learn;
An Endless Adventure, everyday she's brand-new.
Music is that woman, who
You'll hope will say,
"There's very few who do a new-do like you do."
But, alas, you're the victim of her coup
'Cause she can always satisfy you.

Music is the woman
You follow day after day;
Music is the woman
Who always has her way.

The topless chick –
You like to see shake it –
No matter how hard you try,
You never quite make it.

When you don't hear her,
You desperately miss her,
And when you embrace her,
You wish you could kiss her.

Duke Ellington – "Music is My Mistress", DaCapo Press