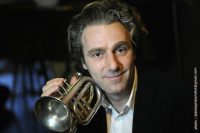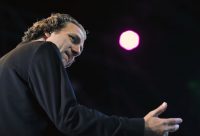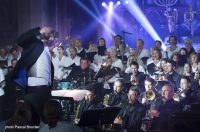 Band leader, trumpeter, composer
Born in 1965, Laurent Mignard had a varied musical training and got involved in most of the styles of the jazz. In 1998, he put the bases of a written and free music, beyond the styles, and makes a success of the fusion between a jazz trio and a cello quartet (album Face a Face 1998).
From 2002, he extended his researches with a Pocket Quartet and proposed an original esthetics fed by the influences of Ornette Coleman, Don Cherry and Duke Ellington (albums Suites, Alter Tropicus and Good News).
Revelation 2005 festival Jazz à Juan, 1st price jazz instrumental

Laureate of the jazz Competition La Defense 2002
In 2003, he(it) bases(establishes) the Duke Orchestra and manages soloists' dream team recognized as the best ellingtonien in service orchestra(band) (according to Duke Ellington Music Society), to throw(plan) the inheritance in concerts and ( re ) creations on the biggest scenes(stages): musics Crowned in Jazz in Vienna(Vienne), Saint-Sulpice, Cork, Madeleine and on tour(off on the rounds) in cathedrals, Far East Suite in Beirut, New Orléans Suite with Rhoda Scott, national stages, Radio France, Jazz under Apple trees, Alhambra, the Luxury hotel, European…
Since 2003, he has been leading the « Laurent Mignard Duke Orchestra« , a dream team of 15 musicians at the heart of a rich, exceptional repertoire that rises above ages and styles: Duke Ellington's Standards, extracts from Suites, Sacred Concert… Challenges are always just around the corner for Laurent Mignard since he has also presented new pieces, created from unfinished original scores as well as expanded interpretations of rare recordings.
Live music played live on stage. The more it's played the hotter it gets! That's why Laurent Mignard and Paul Bessone (label Juste une Trace) waited until 2009 to record and release "Duke Ellington is Alive". This first little jewel went on to be awarded the "The Hot Club de France's" Grand Prize the following year. Laurent Mignard and Paul Bessone agree that The Duke Orchestra should be recorded live on stage. On "Battle Royal", for example, a partnership was set up with the famous "Festival Jazz à Vienne". They also believe that Ellington's music could and should be shared with a larger public. It followed that Laurent Maynard's concerts have been broadcast on the French TV channel TF1. As for Paul Bessone he granted license rights to Sony Music to enable the fame of the orchestra to spread throughout the world with «Ellington French Touch».
To celebrate the 40'th anniversary of Duke Ellington's heritage, Laurent Mignard Duke Orchestra and Mercedes Ellington presented the Duke Ellington Sacred Concert on October 1st, 2014 in the church of Madeleine – Paris. More than 1.200 people were united in the same fervor by the dream-team of the Duke Orchestra, Mercedes Ellington, the vocalists Emmanuel Pi Djob, Nicolle Rochelle and Sylvia Howard, the tap dancer Fabien Ruiz and more than 120 chorists.
In 2018, Laurent Mignard present « JAZZY POPPINS », a musical live show in French based on « Duke Ellington Plays Mary Poppins » by Ellington and Billy Strayhorn. The original album featured arrangements of songs from the 1964 Disney film Mary Poppins Since this program was never staged, an tremendous live show has been produced by Laurent Mignard DUKE ORCHESTRA, considered as the best ellingtonian ambassador. This "Jazzy Poppins" may reach a wide audience, from neophytes to jazz fans, as an opportunity to (re)discover an exceptional and timeless work. « Fabulous! » (Mercedes Ellington)
As a composer, Laurent Mignard is inspired by Ellington, Ornette Coleman, Debussy, Dutilleux, Takemitsu in search of the balance between serenity and surprise, beyond the traditional tonal laws.
Worried of widening the audience, Laurent Mignard conceived the Train du Jazz and settled La Maison du Duke (Duke's place in Paris) He is also formative at the Institut des Métiers de la Musique, leads for 15 years communications actions by the music with l'Agence Musicale and defends the jazz in Grand Ensemble with the federation Grands Formats.
2018 – JAZZY POPPINS – Laurent Mignard Duke Orchestra (CD)
Sophie Kaufmann (vocal), Didier Desbois (saxophone alto), Aurélie Tropez (saxophone alto, clarinette solo), Fred Couderc (saxophone ténor, flûte, clarinette), Carl Schlosser (saxophone ténor, flûte), Philippe Chagne (saxophone, clarinette basse), Claude Egéa, Gilles Relisieux, Jérôme Etcheberry, Richard Blanchet (trompettes), Nicolas Grymonprez, Michaël Ballue, Jerry Edwards (trombones), Philippe Milanta (piano), Bruno Rousselet (contrebasse), Julie Saury (batterie), Laurent Mignard (direction)
Recorded at Pan Piper (Paris), January 7, 2018 – Juste une Trace
2015 – DUKE ELLINGTON SACRED CONCERT – Laurent Mignard Duke Orchestra (CD + DVD)
Prix du Jury Hot Club de France, Sélection FIP
Mercedes Ellington (recit), Emmanuel Pi Djob (voc), Nicolle Rochelle (voc), Sylvia Howard (voc), Fabien Ruiz (claquettes), Didier Desbois (as,cl), Aurelie Tropez (as, cl), Olivier Defays (ts), Carl Schlosser (ts), Philippe Chagne (bar, bcl), Claude Egéa (tp), Sylvain Gontard (tp), Jérôme Etcheberry (tp), Richard Blanchet (tp), Fidel Fourneyron (tb), Mikael Ballue (tb), Jerry Edwards (tb), Philippe Milanta (p), Bruno Rousselet (cb), Julie Saury (dm), Laurent Mignard (dir), Les Voix en Mouvement, dir. M. Podolak, Choeur Gospel Attitude, Choeur White Spirit, Choeur La Celle St Cloud, Choeur de Sage
Live en l'église de La Madeleine le 1er octobre 2014 – Juste une Trace – AM 2015002
2012 – ELLINGTON FRENCH TOUCH – Laurent Mignard Duke Orchestra (CD)
Choc de l'année 2012 Jazz Magazine / Jazzman
Didier Desbois (as), Aurelie Tropez (as, cl), Fred Couderc (ts,fl), Nicolas Montier (ts), Philippe Chagne (bs), François Biensan (tp), Franck Delpeut (tp), Richard Blanchet (tp), Franck Guicherd (tp), Jean-Louis Damant (tb), Fidel Fourneyron (tb), Guy Arbion (tb), Philippe Milanta (p), Bruno Rousselet (cb), Julie Saury (dms), Laurent Mignard (dir)
Live à Clamart le 27 décembre 2011 – Juste une trace, Columbia / Sony Music – LC 88691952912
2012 – BATTLE ROYAL – Laurent Mignard Duke Orchestra et Michel Pastre Big Band (CD)
LAURENT MIGNARD DUKE ORCHESTRA : Didier Desbois (as), Aurelie Tropez (as, cl), Fred Couderc (ts,fl), Nicolas Montier (ts), Philippe Chagne (bs), François Biensan (tp), Franck Delpeut (tp), Richard Blanchet (tp), Franck Guicherd (tp), Jean-Louis Damant (tb), Fidel Fourneyron (tb), Guy Arbion (tb), Philippe Milanta (p), Bruno Rousselet (cb), Julie Saury (dms), Laurent Mignard (dir) MICHEL PASTRE BIG BAND : Luigi Grasso (as), Nicolas Dary (as, fl, cl), Michel Pastre (ts, dir), Philippe Pilon (ts), Jean-François Devèze (bs), Lorenz Rainer (tp), Guy Bodet (tp), Fabien Mary (tp), Jérôme Etcheberry (tp), Guy Figlionlos (tb), Patrick Bacqueville (tb), Jerry Edwards (tb), Pierre Christophe (p), Raphael Dever (cb), Enzo Mucci (g), François Laudet (dms) INVITÉ : Marc Thomas (voc)
Live au festival Jazz à Vienne, 5 juillet 2011 – Juste une Trace, Columbia / Sony Music – 88725430462
2011 – GOOD NEWS – Laurent Mignard Pocket Quartet (CD)
Laurent Mignard (pocket tp), Geoffrey Secco (ts, ss), Eric Jacot (cb), Luc Isenmann (dm)
Juste une trace – AMOC 85081462019
2010 – ORNETTE – DOLPHY, TRIBUTE CONSEQUENCES – Mico Nissim sextet (CD)
Géraldine Laurent (as), Stéphane Guillaume (fl, cl b), Laurent Mignard (tp), Mico Nissim (p, arr), Jean Luc Ponthieux (cb), Mourad Benhammou (dm)
Cristal Records
2009 – DUKE ELLINGTON IS ALIVE – Laurent Mignard Duke Orchestra (CD)
Grand Prix du Hot Club de France
Didier Desbois (as, cl), Aurelie Tropez (as, cl solo), Nicolas Montier (ts), Christophe Allemand (ts, cl), Philippe Chagne (bs, cl), Franck Delpeut (tp), Franck Guicherd (tp), François Biensan (tp), Richard Blanchet (tp), Jean-Louis Damant (tb), Guy Figlionlos (tb), Guy Arbion (btb), Philippe Milanta (p), Bruno Rousselet (cb), Julie Saury (dm), Laurent Mignard (dir), Patrick Bacqueville (voc)
Live à Versailles et Maisons-Laffitte les 7 et 16 janvier 2009 – Juste une trace – AMOC 305369175646
2004 – ALTER TROPICUS – Laurent Mignard Pocket Quartet (CD)
Sélection FIP, disque d'émoi Jazz Magazine
Laurent Mignard (pocket tp), Sylvain Rifflet (ts, b-cl, fl), Eric Jacot (cb), Sylvain Clavier (dm)
Juste une trace – AMOC 012004
2002 – SUITES – Laurent Mignard Pocket Quartet (CD)
Laurent Mignard (pocket tp), Sylvain Rifflet (ts, b-cl, fl), Eric Jacot (cb), Sylvain Clavier (dm)
Juste une trace – AMOC 032002
1988 – FACE A FACE – Jazz trio et quatuor de violoncelles (CD)
Laurent Mignard (tp), Olivier Sens (cb), Peter Perfido (dm), Paul Broutin, Chahan Dinanian, Carlos Beyris et Jean Taverne (vc)
Juste une Trace – AMOC 9805
1987 – LIVE AT STIL – Indigo
Stil