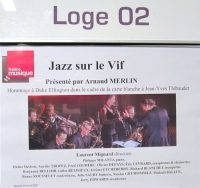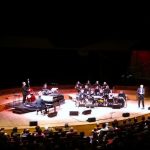 Une grande maison ronde pour le Duke !!
Le 29 avril dernier, pour célébrer 108ème anniversaire de Duke Ellington, le Duke Orchestra a présenté et enregistré à Radio France un grand concert hommage.
Dans un studio 104 chauffé à blanc, les solistes ont caracolé au fil d'un répertoire particulièrement varié : Ouverture Fanfare, Don't Get Around, Concerto For Cootie, Harlem Airshaft, Black And Tan Fantasy, Kinda Dukish – Rockin Rythm, Warm Valley, Perdido, Caravan, Madness In Great Ones, Diminuendo & Crescendo, Harlem Suite, Medley Piano, Nutcracker Overture, Chim Chim Cheree, Half The Fun, Cop Out, Manhattan Murals, Take The A Train, Ad Lib On Nippon et Things Ain't What They Used To Be. Rien que ça…
Le concert sera diffusé dans l'émission « Jazz sur le Vif ». Nous vous informerons de la date dès que nous en aurons connaissance. A noter une séance de rattrapage le jeudi 8 juin à l'Entrepôt.